A new mix from Glasgow's GK Machine exploring the work of some of the most eminent and experimental synthesizer sympathisers throughout the evolution of modern music. Braw.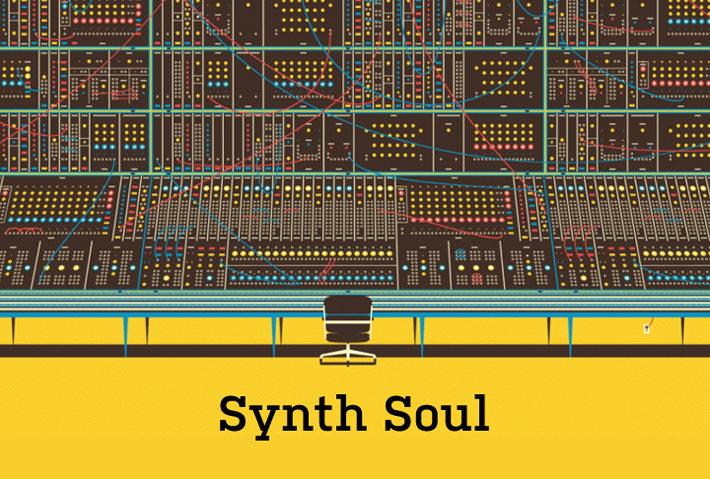 Synth Soul
Here's a bit of background from GK Machine himself.
In this day and age almost every style of music incorporates synthesizers in some way or other. However, ever since their invention and subsequent incorporation into music starting back in the early 60s synthesizers have divided opinion amongst musicians and fans alike. Originally scorned by the music industry, they were believed by many to be the downfall of the music industry putting real musicians and composers out of work with their robotic imitations of the often terrible sounding instruments they aimed to imitate.
As is so often the case, however, the most interesting music comes from people using their instruments in a way that is different from their intended purpose (the classic case being the Roland TB-303 bass synthesizer, which sounded so unlike a bass guitar it sold so badly that by the mid-1980s they could be picked up by even the poorest kids in downtown Chicago for next to nothing, who did just that and started making some pretty warped noises….and the rest is history). Another example is Roland's very first synth, the SH-1000, in fact the first synth to be built in Japan, and it had presets such as 'Trumpet', 'String', 'Funky Clavi' and so on, none of which sounded like those instruments. But when you switched that synth to manual and employed one of the best filters ever heard to this day, the sounds squeezed out of that machine were pretty phenomenal. It was a whole different story.
That was in the 1970s. Since then a lot has changed. Modern synthesizers now have presets like 'Acid Square', '3 Oh 3' and 'Son of Pro One' (the latter two of which pay homage to some notable and worthy predecessors).
Amongst today's creators of fresh and original 'synth' music, for me anyway, are Secret Circuit, Tim Love Lee and Higamos Hogamos/Space Rocks all of whom are inspired by their pioneering predecessors yet are using technological advances to add their own unique touches.
But let's go back to the beginning. And to this mix.
I meant to do this mix months ago. However, on top of being a terrible procrastinator it really didn't help that I continuously discovered more and more music I felt qualified as 'synthesizer music' both old and new. When you go down rabbit hole you just keep falling, it seems. And so with just 27 tracks this mix is really just a tiny window into a fraction of the artists making music with these instruments.
I wanted to include early pioneers such as Raymond Scott, Beaver & Krause, Bruce Haack, Silver Apples and Tonto's Expanding Head Band (whose giant Tonto synthesizer comprised of series III Moogs and a whole lot of other stuff is the world's largest synthesizer) who at this point (mid-1960s to early 1970s) were using giant modular Moog, Arp or homemade synths and oscillators. All of these artists are as much 'scientists' – typical 'boffins', if you will – as much as they are musicians. They all used gear that had been modified or tinkered with in some way…. in some cases built from scratch. The addition of a piano-style keyboard was simply a savvy addition to help facilitate hitting the right frequencies without having to turn knobs and tweak parameters.
By the 70s synths were used by a greater number of musicians not just in the US and Britain. Japan soon jumped on the synth bandwagon and companies such as Roland and Korg started flooding the market with cheaper models giving birth to acts such as Logic and Yellow Magic Orchestra (neither of which are on this mix, unfortunately). It may be a surprise to hear that the synthesizer also became a hot favourite in Africa! Nigerian William Onyeabor was a stalwart Moog fan. Many of his LP covers will feature him in some way sat amongst or in front of his veritable arsenal of synthesizers. The less well known Francis Bebey of Cameroon was likewise enamoured and I'm happy to say I managed to squeeze one of his amazing tracks on to this mix.
Germany too, of course, became a hotbed of synth action. I have included a track by Cluster's Hans-Joachim Roedelius on this mix, though, saying that, just one track by one German artist does not really do the vast German electronic scene justice, unfortunately. However, the influence of Kraftwerk, Cluster, Conrad Schnitzler, Harmonia, LA Dusseldorf, Tangerine Dream, Roedelius and Mobius and so on can be heard seeping into much of the later material on this mix.
Where Germany seemed to primarily cough out music for serious chin-stroking and head-bending, others saw the humour in these potentially quirky instruments and added elements of satire, comedy and downright silliness into their sounds (Bruno Spoerri, Synthesizers Unlimited, Cecil Canterburn, Eroc) whilst others added sleaze and sex to what was perceived as a sterile and soulless genre (Bruce Haack, Patrick Cowley).
Then, in the 1980s synths got BIG. Artists like Soft Cell and Orchestral Manouevres In The Dark paved the way for stadium filling acts like Erasure and Pet Shop Boys on one hand and Jean-Michel Jarre and Jan Hammer on the other. The 90s then took this further with the advent of samplers and home computers resulting in an explosion in dance music that is still making waves today.
Today, the synthesiser continues to be heralded as a pioneering, evolving instrument with 'mini-modulars' (rack-mounted, keyboardless synths) making a resurgence in recent years. Amongst today's creators of fresh and original 'synth' music those that really stand out, for me anyway, are Secret Circuit, Tim Love Lee and Higamos Hogamos/Space Rocks all of whom are inspired by their pioneering predecessors yet are using technological advances to add their own unique touches to their music. The resultant mutant electronic smorgasbord is in most cases pretty astounding…..and in true creative, pioneering spirit, really does defy categorisation.
So what we have here is a mix covering several decades of synthesised sound…..from tunes that will undoubtedly make your toes tap to tunes that'll make you feel like Pac Man's playing ping-pong in your head….from moderately unsettling abstraction to tunes that will, hopefully, make you smile.
– Gordon Mackinnon (GK Machine)
If you enjoyed that then treat yourself to more mixes on Racket Racket including one from GK Machine from back in December here.
(Image above courtesy of DKNG)