Part 4 of Douglas MacIntyre's Run Run Run series sees the runnner in reflective mood on holiday in Majorca. Where the original marathon seed was sewn.
Part Four – Richard Hell and Robert Quine, the Jazzateers and post-marathon ennui…
Hola, I´m writing from the warmth of the sun in Port de Soller, which is on the north-west coast of Majorca. This is really where the story that ended with me running the Edinburgh Marathon on 27th May 2012 began. A year ago in July 2011, I was on holiday with my family in Port de Soller along with old friends Paul Turnbull and Ann Donald (and their groovy weans). As friends we go back a long way with Paul, Ann, and my wife, Katy being involved with the C86 movement. Paul was the drummer in Mackenzies, Ann was the drummer in the Shop Assistants, whilst Katy was the singer in the Fizzbombs (with whom Ann was the bass player). When I started an audio communication company (The Creeping Bent Organisation) in 1994, Ann was our media manipulation director, whilst Katy, Paul and myself were on the label as recording artists, The Secret Goldfish.
Anyway, last summer, Paul and I decided to go for early morning runs from Repic Beach up to Soller town square; then back down and along to the harbour in Port de Soller. Invariably we´d have a chocolate crossiant and cafe con leche, supplemented by copius amounts of aqua con gas. These 8am runs got the day off to a good start and helped ward off any possible hangover that may have been lurking from the previous evenings wine intake.
The first time I was in Postcard's West Princes Street flat with my group Article 58, Alan Horne was in Voidoids mode – declaring that Blank Generation was the only good thing to come out of punk. He seemed pleased that Hamilton tykes like us were on board with the Hell message.
After a week of our morning running regime Paul mentioned he had once run a half marathon, and after some intense questioning I wondered if I´d be fit enough to run a half marathon (being a 49 year old codger at that point). Paul thought we'd be able to do it, so on return from holiday we both signed up for a half marathon in Jedburgh in late October 2011 (followed a week later by a 10k run in Strathaven). After managing to run both of these events I decided that to celebrate (!?!?) my 50th birthday I would sign up for the Edinburgh Marathon 2012, which is where we came in on our 1st edition of RUN RUN RUN back in April this year.
I'm still enjoying running, and have been getting up for 8am runs in the Soller sunshine. When I ran to Soller square this morning, I remembered a story Davy Henderson had recounted about his first foreign holiday, which was in Soller strangely enough. Davy and fellow Fire Engine Russell Burn (along with Russell's esteemed actor brother Tam Dean) had a week in Soller in the early 80s. One day, Russell and Tam ventured down the coast to the bucolic mountain/coastal village of Deia (Davy had decided to stay in his bed). When Russell and Tam got to Deia they bumped into some hippies who invited them to a party, where they met a kool 70s cat playing acoustic guitar – it was none other than Kevin Ayres, of whom Davy was a massive fan. The lesson here folks is that you should never surrender to sleep!!
Recently I was at the opening of an exciting new strand of the Glasgow art scene – it's a venue called The Poetry Club and has been put together by pop-art magus Jim Lambie and superkat Jason McPhail. Jim invited Richard Hell over for a collaborative weekend and to appear at the opening night of the Poetry Club. Jim and Richard did some art together and Richard did some readings from his autobiography. Hell was great, his Kentucky twang emanating grace and danger, his reading about his childhood in particular being very emotive and eloquent. The following night Richard gave a 20 minute talk about (and prior to the screening of) John Huston's film of Flannery O'Conner's Wiseblood. This took place at the Glasgow Film Theatre and was part of the Monorail Film Club, and was introduced by Stephen Pastel (another groover who doesn't get the credit he deserves). All in all the 'Hell Weekend' was an extremely life-affirming experience and completely at odds with the cartoon nihilistic image some people project on Richard.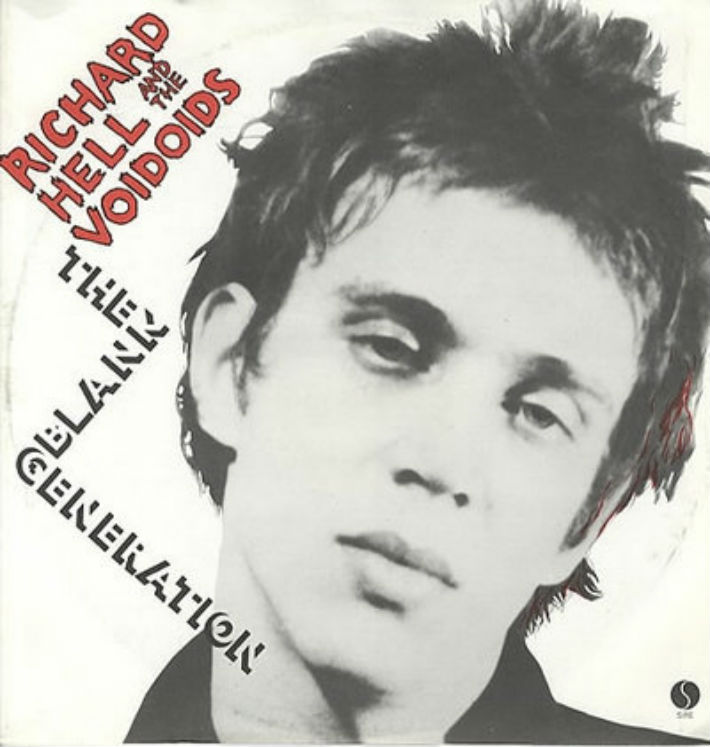 I was a massive Voidoids fan and the Blank Generation album really was the deal for me. It was such an essential touchstone that it was imperative I saw the Voidoids, which I finally managed to do when they played the Glasgow Apollo with Elvis Costello & the Attractions. I think the Hell canon is remarkable – not only because of the Blank Generation LP but also the perennially overlooked Destiny Street which has several moments of genius, my favourite being Time. The ROIR cassette, R.I.P., also has a certain charm, as do his books – especially Artefact). Robert Quine was such a great guitarist. You could really hear the influence of Albert Ayler in his playing. I met Quine once and spent a kool evening with him, apart from his documented love of the Velvets he was a massive Byrds fan. In many ways Quine was the prototype for the Sound of Young Scotland guitar-noise. It was an explosive experience watching him playing live. The Voidoids aesthetic was an important development to the Fast/Postcard output, the Fire Engines vision, in particular, was probably impacted by Hell giving Davy his ripped Voidoids t-shirt backstage after a Voidoids Edinburgh performance.
The first time I was in Postcard's West Princes Street flat with my teenage existential angst group Article 58, Alan Horne was in Voidoids mode – declaring that Blank Generation was the only good thing to come out of punk. He seemed pleased that Hamilton tykes like us were on board with the Hell message. Article 58 were signed to an Edinburgh label (Rational Records) and label boss Duke Campbell hipped me to the Neon Boys proto-version of Love Comes in Spurts, which I still dig. He also had bootlegs of Television´s Ork Loft rehearsals as well as the demos they recorded for Island Records (produced by Brian Eno).
Probably my favourite guitar album by a Glasgow group is the Jazzateers eponymously album. I met the mainstays behind the Jazzateers for the first time on my 21st birthday. They had been in the studio recording the album, and Ian (guitar), Keith (bass) plus vocalists Grahame and Paul popped up to my flat afterwards to my party and helped me to pop my cork. I became firm friends and eventually joined the Jazzateers a few years later… but the tracks they played me from this 1983 album blew me away. I'd seen Jazzateers when they were on Postcard and dug their Vic Godard/Club Left faux jazz stylings… They were like the Velvets gently strumming Bacharach & David songs… and featured Alison Gourlay's haunting vocals at this point. However, these new recordings with Grahame Skinner (and Paul Quinn on backing vocals) were completely different in style. Geoff Travis had signed them to Rough Trade after Postcard's demise and had been expecting an album based on their (unreleased) Postcard recordings. However, the album the Jazzateers delivered to Rough Trade was more akin to the Voidoids x Iggy x the Dolls with Ian's guitar solos plugging into Robert Quine´s sick electricity. It's a classic album – Rough Trade hated it.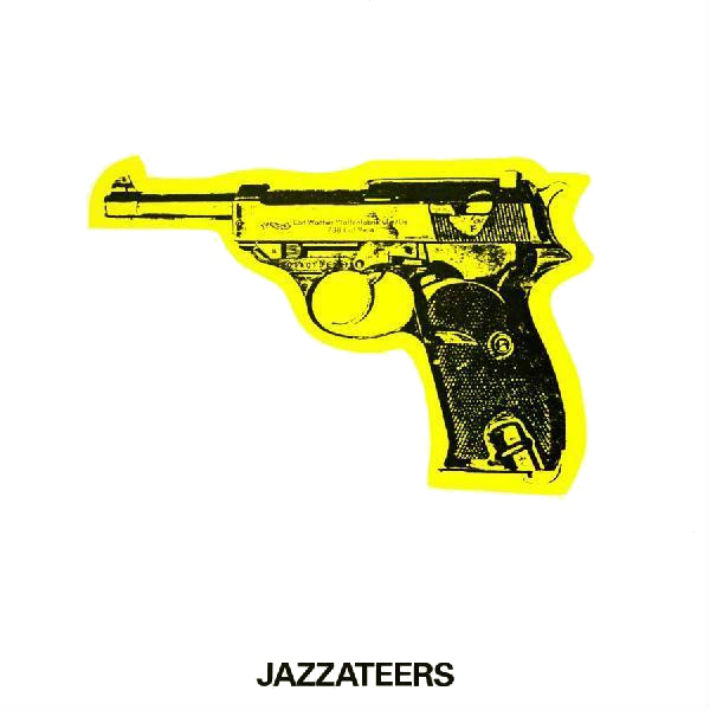 And finally Esther. Some Hell-related muso details. Pre-punk – I was a massive Ziggy fan and had always thought the design of the bass played by the Spiders Trevor Boulder was consumate. Upon further research I discovered his bass was a Fender Mustang. During the CBGBs explosion I noticed that both Richard Hell and Talking Heads' Tina Weymouth played Mustangs too.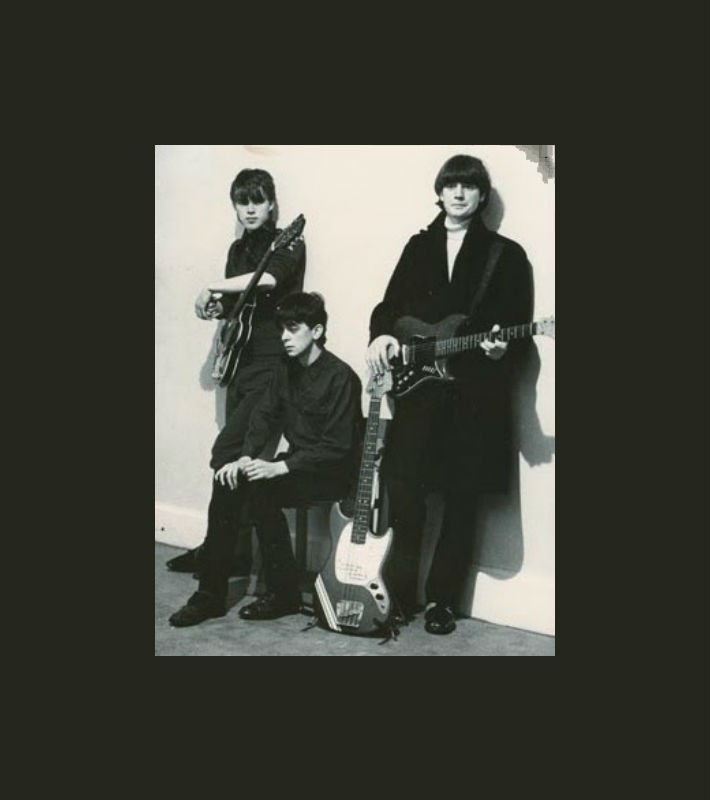 Then when Orange Juice hit the scene their group photos often featured the group cavorting with their guitars and I noted with interest bassist David McClymont was a Mustang user. Jazzateers's Keith Band became custodian of McClymont´s Mustang once Orange Juice signed to Polydor and in later years I bought the Mustang from Keith. Its a great looking and sounding bass – I still use it regularly touring and recording with the Sexual Objects – I´d have to nominate it as my obscure object of desire.
Read the first three parts of Run Run Run here.