Creeping Bent and Electric Honey commander in chief, Douglas MacIntyre, takes us through some of the thoughts running through his head whilst training for a marathon. Part One of a new series.
Part One – Marathon training and the existential milieu.
"I'm a dried up seed can't be restored, I hope no one notices the sleep on me…"
My name is Douglas MacIntyre and I have a confession to make. Today is my 50th birthday. I have another confession – I am training for the Edinburgh Marathon which takes place on Sunday 27th May. I have never run or even thought about running a marathon before, maybe it's the 50 thing, but strangely I am enjoying my training regime. My training mostly consists of running in the beautiful South Lanarkshire countryside near Strathaven, during which my mind goes into creative and critical overdrive.
These mind-musings randomly detail the crazy mixed up obsessions that flit through my mind when I'm out running. Chess, ornithology, fishing, Velvet Underground, Truman Capote, Hamilton Accies, Vic Godard, Metal Machine Music, Richard Hamilton, Bill Drummond, Fast Product… A stream of unconscientious-nezzz. Ergo, I've taken the plunge and committed to writing this self-absorbed diary on Racket Racket detailing the existential milieu of marathon training. It might be vaguely amusing to someone, somewhere but probably not. Always abstract. Welcome to RUN RUN RUN.
4th March 2012 – My wee sister Elizabeth's birthday. She was born in 1969 when I was 6 years and 11 months old. I remember at the time thinking that 1969 was a really modern year – the beginning of a new age, a feeling that reappeared in my psyche when I heard Iggy Pop as a teenager. It is a beautiful day and I'm running near a village called Sandford on the outskirts of Strathaven (which is in South Lanarkshire, Scotland) doing a 4.8 mile loop along the Roman Rd then back down the High Kype Rd. A week ago there were no lambs. Now the fields echo to their bleats as they gambol and frolic in the dew (ah, how sweet). Spring is rolling into action, the snowdrops are dying and the daffodils are through. The songbirds are singing.
In the fields two birds that I strongly associate with my childhood are patrolling the airspace – the curlew and the lapwing. I grew up in a wee rural village three miles outside of Strathaven called Glassford, or the Glessart as it is known locally. In the early 1970s I'd often walk up through Pennylawn, past Bannatyne's up to what was known as the moor. The fields were largely unfarmed and home to reasonable populations of curlews and lapwings (birds that are now rare in that habitat). However, back then I only knew these birds by the Scottish names – a curlew is called a whaup, and a lapwing is called a pee-weep. Scottish derivations of bird names is very much a regional and colloquial affair. Their names were taught to me by my dad. He is a man of the country and knows his birds, I guess he learned these names from his father, who was a highlander from Corpach (near Fort William).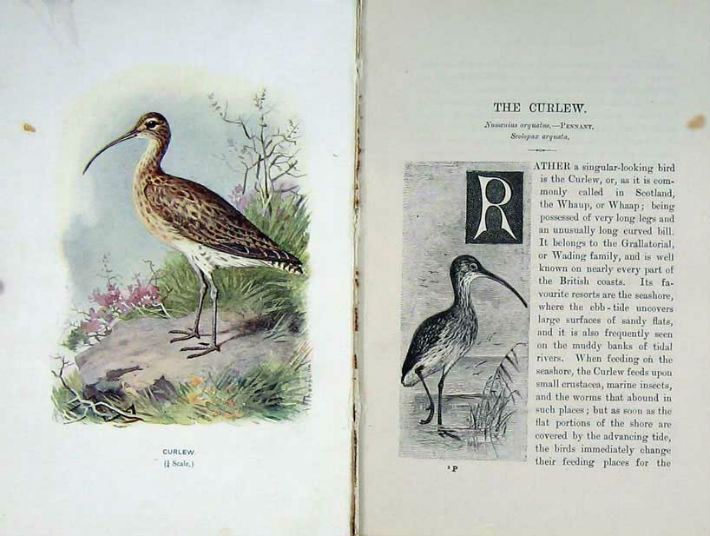 One of my many unrealised art concept projects was an exhibition of old plates of birds from an old Hamlyn book. I Warholised the birds and painted the Scottish name next to the bird, some of the Scottish names are so poetic and to my mind considerably more apt than their recognised name – here are a few: Blue Dykie (Dunnock), Mavie (Song Thrush), Shelffie (Chaffinch), Stuckie (Starling), Skittery Feldie (Fieldfare), Watterhen (Moorhen), Hoolitt (Owl). I remember talking to pop painter Ross Sinclair at an exhibition opening years ago. Ross was going over to St.Kilda for an art project and we had a very cool chat about the unique genus that inhabit the island – the St. Kilda wren being a particularly fascinating sub-species.
30th March 2012 – Fantastic sunshine, unseasonal heat. South Lanarkshire burns! I'm running a 16 mile training circuit around Sandford. Spring has, most certainly, sprung. A lot of the fields are being ploughed and the earth is supremely brown and resplendent in the Spring sunshine. I'm just back from a run of five live shows by the pop group I play bass with, The Sexual Objects. We were in London at the Klub Guttenburg, which was lovely. The night is put together by The Quietus and Rough Trade Books. It's the kind of event we like playing at. It's non-rock industry. The night was held upstairs in an old fashioned pub called The Queens Head on Essex Road in Islington, and it consisted of a pub quiz hosted by Roy Wilkinson (Rough Trade Books), Robin Turner from Heavenly discoursing on pubs, questing Postcard punk-poet Jock Scot, the Sexual Objects laying down the boogie before being joined by Vic Godard on vocals for a run (run run) through of early Subway Sect classics like Nobody's Scared, Ambition, Parallel Lines, Chain Smoking, Rock n' Roll Even, and Stool Pigeon ("things are tough, we can still picnic").
Vic Godard really is the centrifugal force that underpins everything I dig about rock n' roll. 7th May 1977 is the ground-zero pivotal date for any decent art that has come out of Scotland since.
Vic Godard really is the centrifugal force that underpins everything I dig about rock n' roll. 7th May 1977 is the ground-zero pivotal date for any decent art that has come out of Scotland since.
The Subway Sect are massive in Scotland. The primary feather guiding all those that have followed in Vic's wake – Fast Product begat Postcard begat Pastels begat Teenage Fanclub begat Creation begat Belle & Sebastian begat Franz begat… ad infinitum.
The Sexual Objects finished off playing a couple of dates with the Subway Sect in Scotland, rather aptly, as leader Davy Henderson is one of the Children of Godard (TM our friends in Newcastle, the Michaels). Davy was at the 7th May 1977 White Riot show that saw Scotland wired to a Sect-Slits-centric vision. The current Subway Sect are really kookin' it up and mixing songs from their most recent (and possibly best ever) album, We Come as Aliens, some early classics. All jammed up with the unreleased northern soul songs Vic was playing in 1980. The legendary live bootleg tape made by Alan Horne from the Music Machine gig where the Sect first played the northern soul set could be said to be the tablet from the mountain that the ten commandments of Scottish pop came from. Orange Juice would famously cover one of the songs from Horne's bootleg (Holiday Hymn) on a John Peel session for the BBC, arguably kicking off the Sound of Young Scotland movement in the process.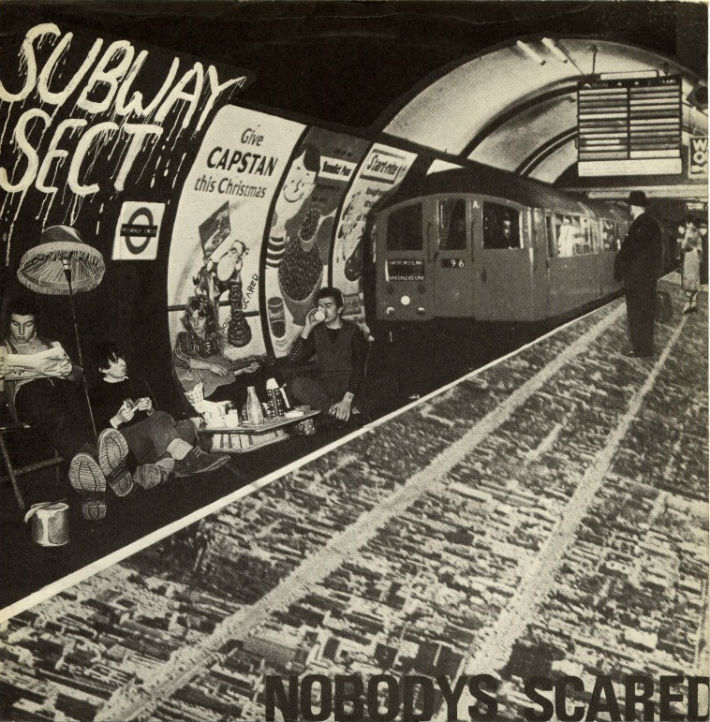 The current line up of the Subway Sect features long term Secters (Kevin & Mark) along with original bassist Paul Myres on bass and the Pistols groover Paul Cook keeping a Baresi-esque grip on proceedings. I remember having a poster of the Pistols on my teenage bedroom wall alongside the Sensational Alex Harvey Band and Bowie. I've always loved Cookie's drumming. He was great in Edwyn's group too. Really holding everything together, excelling on tracks like Won't Look Back from the Edwyn Collins produced End of the Surrey People album by Vic that appeared on Postcard. Subway Sect are currently working with Edwyn on a tracks for a possible 7" single on Edwyn's AED imprint as well.
 
I totally concur with the mighty Marc Riley when he says Vic Godard is the greatest living Englishman and Davy Henderson is the greatest living Scotsman. Just don't tell them that.
NB – Roy Wilkinson, Edwyn Collins, and Marc Riley are all keen ornithologists too.
Anyway, the existential joy of running, blimey, who'd have thought? Songs rattle through my head whilst running too as you would imagine. Possibly (probably) predictably Run Run Run by the Velvets but maybe more curiously, another track called Run Run Run, this one by a stodgy LA rock band from 1971 called Jo Jo Gunne.
Slide on!
I'm attempting to run the Edinburgh Marathon to raise money for Down's Syndrome Scotland. This year DSS celebrates 30 years of working to improve the quality of life for everyone with Down's syndrome and their families. I've never run a marathon before, I can only assume it's a mid-life crisis on turning 50! The training is a slog, but I'm determined to make it, and promise to post a picture of me crossing the finishing line (which won't be a pretty sight). My 8 year old daughter Matilda has Down's Syndrome and is an inspiration to our family and everyone who meets her. DSS has been an invaluable source of support and information, any donation would be greatly appreciated.
Donating through JustGiving is simple, fast and totally secure. Your details are safe with JustGiving – they'll never sell them on or send unwanted emails. Once you donate, they'll send your money directly to the charity and make sure Gift Aid is reclaimed on every eligible donation by a UK taxpayer. So it's the most efficient way to donate – I raise more, whilst saving time and cutting costs for the charity. Visit the page here if you would like to donate: Douglas's Just Giving Page