Part 3 of Creeping Bent and Electric Honey commander in chief, Douglas MacIntyre's Run Run Run series taking the reader on a reflective trip through the mind of a marathon runner.
Part Three – Fire Engines, Josef K, the Edinburgh Marathon 2012
"We oppose all rock n' roll… it's held for so long you can't refuse, it's too much to lose…"
28th May – Ok, ok, ok… I know, RUN RUN RUN has had precious little about marathon methodology thus far. Too much rock 'n' roll and hardcore orno… well, that's all about to change, as Orange Juice boldly declared on Poor Old Soul Pt2, "no more rock n' roll for you". There will be a surfeit of marathon terms and conditions in this issue of Run Run Run.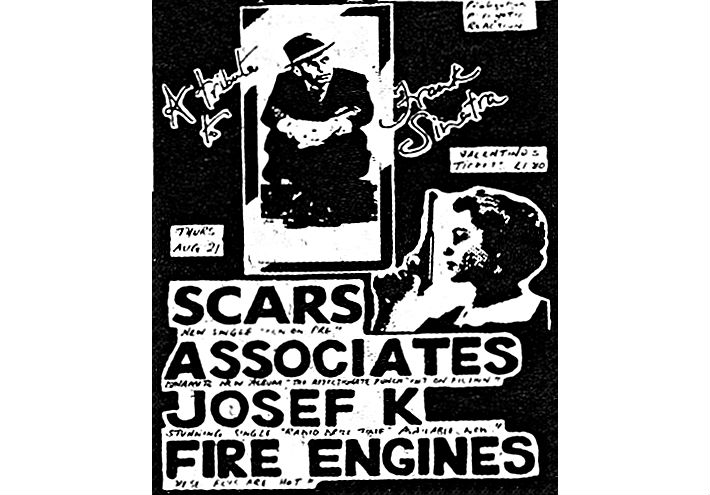 But first, erm, more random notes about rock 'n' roll ("I Just Can't Help Myself" – OJ mk2). The seed probably germinated from Edition 2 of RUN RUN RUN where I was musing about Fast Product-era Scars but I started thinking about what a large part Edinburgh played in my latent teenage head. Whilst Scars were the first signs of life in Scotland, I soon saw another group who had a similar guitar sound and fury to that spitting out of the Scars. I saw Josef K when they supported Three Imaginary Boys early version Cure at the City Hall in Glasgow (with Altered Images opening the night). The guitar playing of Malcolm Ross and Paul Haig in Josef K was incendiary. Josef K were like Oxfam suited mysterons – with their treble freak white light guitar scorch. I did some liner notes a while back for my favourite Josef K compliation, Endless Soul, released through the mighty Marina label in Hamburg. You can find these very liner notes on Racket Racket in a week or so.
The first time I saw the Fire Engines was at Duke Campbell's Frank Sinatra tribute night in Valentinos, on 21st August 1980. The line up was iconoclastic; Scars, Associates, Josef K and Fire Engines.
The third part of the Edinburgh guitar triumvirate that branded itself on my teenage head was Fire Engines. And, anyone who hasn't read Innes Reekie's definitive State of Play journalistica on Fire Engines please click here.
Here's another interesting link to Fire Engines histoire, via the fondly remembered Tangents gang as well.
The first time I saw the Fire Engines was at Duke Campbell's Frank Sinatra tribute night in Valentinos, on 21st August 1980. The line up was iconoclastic; Scars, Associates, Josef K and Fire Engines. Watching Billy MacKenzie with the Associates was pretty amazing, but I wasn't sold on the music, which was predominantly their first album.
I 'got' the Associates through their Situation 2 series of 12" singles; and of course loved seeing Billy becoming a pop star on those peerless TOTP appearances. However, the Sinatra tribute night belonged to the only fun in town, the stripped guitar treble-venom of Research, Ross/Haig, and the Henderson/Slade axis of fury. In a strange twist of fate I ended up managing the Fire Engines and their catalogue via Domino Records.
I'd sent away for the Codex Communication 7" (Get Up & Use Me/Everything's Roses) and first came across Lubricate Your Living Room courtesy of Alan Horne, who had a pre-release 12" vinyl in a Pop Aural polythene bag. He tried to explain to me Bob Last's concept of heroic leisure/background muzak for active people. I didn't really get it at the time. When the Fire Engines briefly reconvened in 2004 they played some blistering live shows, probably most memorably at Optimo in Glasgow. Murray Slade's Rickenbacker and Selmer combination really nails their sound – though the Engines really are the sum of their parts.
Even stranger events unfurled when the Fire Engines reconvened for their first live date in 23 years supporting Beefheart's Magic Band in Edinburgh on 24th January 2004 (more of which later)
Anyway, avid RUN RUN RUN readers will note this article has a post date of 28th May, which is of course the day after 27th May, which was of course the date of the Edinburgh Marathon. Those with a keen eye will realise I have been writing about my marathon training regime. Some may wonder if I did indeed turn up for the marathon or complete it. Well, I did – I ran the Edinburgh Marathon 2012 in 4 hours and 36 minutes, on the hottest day of the year. The event featured 23,000 runners and was one of the most amazing experiences I've ever undertaken. The marathon starting line was on Regent Road then round past the Scottish Parliament and Holyrood Castle then alongside Arthur's Seat. The route then snakes further through Edinburgh and past Meadowbank Stadium (where Postcard punk-poet Jock Scot saw Sun Ra and his Arkestra) eventually reaching the coast at Portobello. The route then followed the coastline through Musselburgh, Cockenzie and Port Seton, the sea and shore resplendent in the blazing sunshine.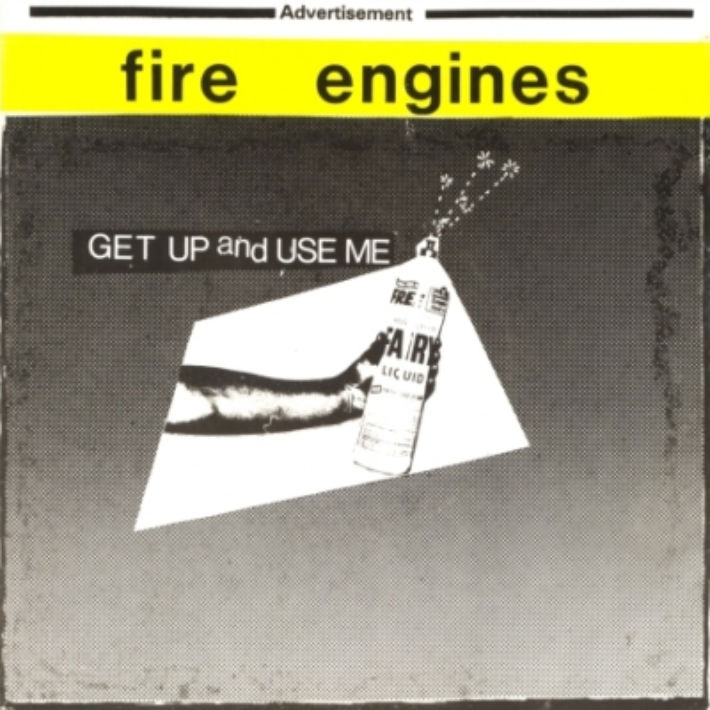 I was taking plenty of water (there were water station at regular intervals) and when I got to the 18 mile mark I had a gel and started on the jelly beans. I took another gel at 21 miles and have to confess the last 5 miles were tough, both physically and psychologically but I never felt I needed to walk at any stage and was determined to run the whole 26.2 miles. As I ran back to the finishing line in Musselburgh I was totally focused on the main reason I was running the marathon – which was to raise money for Down's Syndrome Scotland.
As I approached the finishing line my 8 year old daughter Matilda shook off her mum and grabbed my hand to run over the line with me, joined by her brother Dugald. I felt a palpable sense of relief crossing the line in the scorching sunshine. I also felt relieved I didn't lose it emotionally which I feared I would. I'm still taking in the fact I have now run a marathon and find it hard to express my gratitude to everyone who donated to myJustGiving page. Over £2,000 has been raised so far for Down's Syndrome Scotland, which is incredibly generous and kind. Thank you.
I wanted to say something about my daughter Matilda who has Down's syndrome. I remembered my wife Katy had written something some years back, so I asked her if she would update it. I also wanted to express something about my fellow marathon runners, most of who were running in remembrance of someone they've lost or for a charity. All of my parents' friends are dead. Cancer in each case. I also have friends who have had to battle this hideous disease and in some strange way I felt I was running to salute them too.
Here are the words written by Katy. You'll note the Fire Engines are present and correct, as ever.
On January 24th 2004 I struggled into a pair of fuschia pink tights, forced a tight midnight blue velvet dress over my 37 week pregnancy bump and headed out to see the newly reformed Fire Engines support the legendary Magic Band in Edinburgh. I was excited about what I supposed would be my last night out for a while. I hadn't really banked on that over-excitement leading to the onset of premature labour before the Fire Engines had even finished their first song.
I was on the cusp of 37 when I became pregnant with our third child and, as I thought, well aware of what the ensuing 9 months would hold. I had a 3 year old, a 18 month old, and had a vague notion of packing in 4 kids by my 40th birthday (a few years down the line I was 6 months pregnant with nos. 4 and 5 on my 40th birthday, but that's another saga)…
I had never opted for any sort of screening test with either of my previous pregnancies and chose not to again this time – I knew I was creeping into a new category age-wise and didn't feel it would be useful to be allocated a statistical risk factor, given that I was at a high-risk age anyway. But we leaped at the chance of a 20 week scan and took 3 year old Amelia along to wave at her new sibling on the TV screen. The scan started as usual, with the consultant pointing things out to us and giving a running commentary for the benefit of the medical student. We smiled, nodded, exclaimed at things for Amelia, and gradually became aware that we were the only ones smiling. The doctor's commentary had become rapid and soft, for the student's ears only. Douglas and I exchanged confused, unknowing glances over Amelia's curly head. Were we reassuring each other? If so, we failed miserably. Eventually the consultant spoke and changed our realities forever. He told us our baby had something called a nuchal fold "right here at the back of the neck" he said, pointing. "It's an extra piece of skin, a thickness of the neck… It can be an indicator for Down Syndrome but lots of babies are born with a nuchal fold, and its presence here is not conclusive that you are carrying a baby with Down Syndrome. But it is an indicator."
And that was it. He was telling us everything and nothing all in one breath. One of those things you worry about in an abstract sense was here in front of us, real, but without any certainty.
We both stare at the screen, and silently at the doctor, expecting him to tell us something, anything, a fact, a figure, an answer. We wait silently. Eventually he says, "we have a genetic counsellor to speak to you now and discuss your options." Options. Options. Voices in my head. I have to get up off this hospital bed. I swing my legs off the bed, sit up, find my hands in front of my face as it distorts rapidly and the tears escape. We are ushered into a small room, bland office furniture, pastel patterned curtains and a box of tissues on the table. The crying room. I make use of the tissues while Douglas shows Amelia, our mini ornothologist, birds through the window, swooping in the grey Wishaw sky. And I wonder silently, will this baby have passions like its brother and sister? Tractors and birds and horses and football… dinosaurs and washing dishes in sinks full of bubbles. What have they told us and why?
The genetic counsellor is very nice as these people are, but she can tell us nothing concrete, no-one can. Only an amniocintesis can do that and it unfortunately carries a risk of miscarriage that we're not willing to take. The unspoken assumption seems to be that a positive amnio result = termination; and since we want this baby, we swiftly decide against an amnio and for 5 long months of undiluted uncertainty.
For much of those ensuing months I wished I'd never had the scan. Wished I was able to enjoy my pregnancy without the inconclusive monthly scan routine, the only "treatment" the consultant could offer us. But that was the choice we made and as the months passed and each successive scan showed up nothing untoward beyond the nuchal fold, I grew blase. "So it looks as if the baby might have a thick neck. What the hell does that mean…" No other indicators came to light and we grew used to our slightly altered state, not wanting to immerse ourselves in Down Syndrome literature and information, but not wanting to dismiss the possibility out of hand either.
She is a keen gymnast, swimmer and dancer, never leaves home without a book, which she reads avidly, and attends the local school with her siblings. She has enormous confidence, is obstinate beyond belief and loves life. All traits which I hope will ease her passage through her own individual reality.
And then came the scan that changed everything. It seemed to go inconclusively as usual, no major developments, and I was struggling off the hospital bed, preparing for the December cold and many festive related tasks ahead, when the doctor went to plot his findings on my medical chart. He stopped us just as we reached the door. "The baby's weight doesn't seem to have increased significantly since the last scan. That could be indicative of other problems. So I'd like to see you again in three weeks if that's ok. But don't worry, just go off and have a good Christmas." And that was it. We found ourselves outside in the cold with this brand new scratchy little ball of information so casually flung at us on the eve of the festive season. So indecisive yet so decisive. I began to float away in a downward spiral of newfound reality based on an almost throwaway comment. We couldn't even think of a coherent question and watched silently as the doctor disappeared round the corner of the long hospital corridor, leaving only his antiseptic smell in his wake.
And so, we found ourselves at the Fire Engines gig, the last night of our old reality and the dawn of a brand new one. Within the next 48 hours I would go into premature labour, have an emergency caesarean section, fleetingly cuddle a tiny, fragile girl and watch, sliced open and virtually incapable of comprehension, as she was whisked on a trolley off into the twilit mysterious corridors of the neonatal intensive care unit.
When I next see her I am on a morphine drip and she is ensconced in a little glass box, tubes snaking all over her tiny body, an orange woolly hat on her head, and I hardly know who she is. I stare at her briefly till some emergency erupts and I am swiftly whisked away, my final glance being of her greyish little face being gently but repeatedly slapped by a nurse. The morphine did its work, I went quietly, uncomprehendingly back to my room and my drug-induced haze. We would discover much later that her lungs had collapsed and the next time we saw her she was heavily sedated and attached to a ventilator. The Down Syndrome issue quietly slid out of the picture. Nobody knew for sure and nobody really cared. At the moment it was all about survival.
And survive she did, silently and stealthily in her glass box, fed through her nose with minute drips of my expressed breast milk. She fought off infection, after infection – pneumonia, collapsed lungs and heart scares which amounted to nothing. After four long surreal days of sedation on a ventilator, Matilda moved her baby toe. To us it was like hearing her first cry, or watching a first step. We were over the moon.
Life has continued something like this for us with Matilda. Every tiny achievement is something to be ecstatic over. It takes longer to happen, the anticipation is huge, but the rewards come and they are enormous. Those early days were a steep learning curve in the rigmaroles of having a sick baby, and the learning curve of having a child with a "disability" continues on a daily basis. We began the campaign to get Matilda home almost as soon as she left intensive care and eighteen days after she was born, weighing a scrawny 5 pounds, Matilda came home.
That was now eight years ago and Matilda has remained hospital free ever since and continues to go from strength to strength. We now know that the problems she was born with are not uncommon for kids with Down Syndrome, and while we were not well read on the minutae, we're both glad that we had the scan and prepared for the possibility that Matilda would be who she is.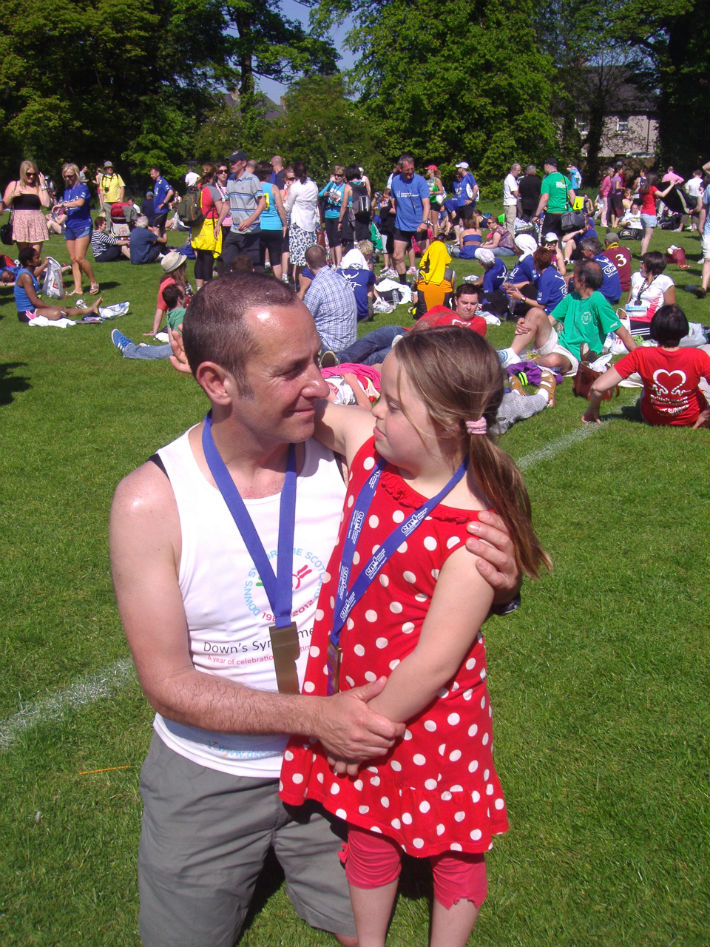 We learn something new with each new phase that Matilda passes through, and as with moving her baby toe after 4 days in intensive care, she does things more slowly and deliberately than other kids (apart from running which she does at a manic pace). It made Matilda's babyhood a magical time to cherish. She stayed a tiny baby for so long, carried chest-to-chest in a pouch, physically as close to me as possible after being denied it at birth. Each development has been fought for, intensively coached by her parents, siblings and extended family and the cause of much celebration. We take for granted now the knowledge we have about the low muscle tone that causes delayed physical development, the slow speech, the poor hearing, the eyesight problems, the heart problems… the myriad things that can go wrong with any child and the ones specific to kids with Down Syndrome.
Matilda is lucky in that all she seems to have at the moment is a problem with speech clarity, which doesn't ever stop her from communicating with all and sundry, she wears glasses and a hearing aid. To counteract these issues, she is one of the most sociable, friendly, outgoing people I know. She is a keen gymnast, swimmer and dancer, never leaves home without a book, which she reads avidly, and attends the local school with her siblings. She has enormous confidence, is obstinate beyond belief and loves life. All traits which I hope will ease her passage through her own individual reality.
For a few years after the twins were born family life was a finely tuned balancing act and often we landed in a huge messy heap, frustrated and upset. We never quite felt as if we were doing enough for Matilda, but we did as much as we could while trying not to ignore the many varied needs and wants of these other four fantastic little people. Now everyone's at school, life has a different rhythm – chaos and unpredictability lurk around the 3 o'clock corner instead of every second of every day. There are still those who are actively nervous at spending time with us. But it's our family. It hasn't been easy, but it has been amazing. Life with Matilda is a joyous challenge, some days just a challenge, some days just a joy, but nothing that we would ever change.
On Sunday 27th May 2012 I went to Edinburgh with my five kids and my Mum to see Douglas complete the Marathon on the hottest day of the year. Matilda asked where her dad was was for 2 hours. It was busy, it was hot and it was challenging. "Where's my dad where's my dad where's my dad I want daddy I want daddy I want daddy…" Yes, it can sometimes just about drive you crazy, but then she finally catches sight of her dad, runs into the throng, takes his hand and crosses the finishing line to cheers and applause that she quite rightly takes in her stride.
You can read Parts One and Two of Run Run Run here and you can still donate to Douglas's JustGiving page here.