As the Creeping Bent Organisation enters it's 20th year of operation, Douglas MacIntyre takes a look forward to some forthcoming gigs in Glasgow.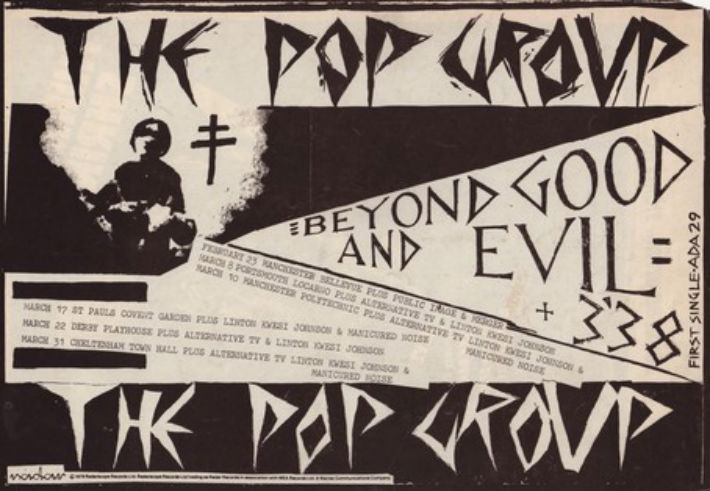 The Creeping Bent Organisation turns 20 in 2014, and to celebrate we have a brace of action-pop as our opening salvo (both in Glasgow). As part of the city's Celtic Connections festival, Creeping Bent will present the Pop Group's first show in Scotland for 33 years at the O2 ABC in Sauchiehall Street on Saturday 18th Jan (with a possible aftershow of noise and readings at esteemed artist Jim Lambie's nocturne happening, The Poetry Club). Special guest to the Pop Group is Sexual Objects, who have a new single Feels, With Me (recorded with Boards of Canada). Look it out and watch the video below.
I first heard the Pop Group's debut 12″ She is Beyond Good & Evil in Hamilton at Article 58's technical advisor Big Jamie's house. Hearing the record changed all of us forever, it made the Pistols / Clash / Buzzcocks triptych seem trad (dad), and to resort to cliché, opened a world of possibilities. Having a dub producer like Blackbeard doctoring the Sager / Stewart et al noise created otherness in the audio, whist the lyrics were as good as Vic Godard's. Coming full circle, at a Hamilton Accies league game last session I was sitting close to a young groover wearing a Pop Group We Are All Prostitutes T-shirts. It's Academical!
Here are some truly wonderful writings about the Pop Group by pop culture master Kevin Pearce, from his fantastic Yr Heart Out archive.
After spending 1994 plotting, planning and agitating, the first Creeping Bent event took place at the Tramway in Glasgow on 12th Dec 1994. It was a maxi-media theatrical event named in homage to Yves Klein – A Leap Into The Void (BENT 001), and featured live performances by The Secret Goldfish The Leopards, and via satellite Alan Vega & Revolutionary Corps of Teenage Jesus. The Leopards had recently made their live debut (opening for The Nectarine No9) at Postcard Records' Fin De Siecle night in the RAF Club in Glasgow. Over the 20 years since A Leap Into The Void, The Leopards released only two albums, but backed Postcard alums Paul Quinn (as The Independent Group), James Kirk (You Can Make It If You Boogie), Paul Haig, and Vic Godard.
Lloyd Cole has asked The Leopards to be his group for his first electric shows for a number of years. These shows include another Celtic Connections event on Weds 29th Jan at the O2 ABC in Glasgow, supported by a rare live performance by Jazzateers (whose 1983 Rough Trade debut LP was recently reissued by Creeping Bent).
Further information at the Creeping Bent site and a special Celtic Connections product package featuring albums by The Leopards / Gareth Sager / Jazzateers / The Nectarine No9 is available from the Bentshoppe.
More from Mr MacIntyre here.