Second part of our interview feature with Optimo's JD Twitch in conversation with legendary On U Sound producer and artist, Adrian Sherwood.
At King Tut's on 26th March, Mark Stewart, one of the founding members of The Pop Group amongst many more noble and notable alternative music achievements and accolades, played a gig with his new band as part of what was a critically acclaimed UK tour. Keith McIvor AKA JD Twitch of Optimo (Espacio) was playing records in the support slot and Adrian Sherwood was the sound engineer. We introduced Adrian (who, in the 30th anniversary year of his crucial On U Sound label, has recently completed top notch remixes for Django Django and Peaking Lights as well as a new solo LP) and Keith for the following interview feature. Read Part 1 on Racket Racket.
And once again, while you read this, have a listen to the new Adrian Sherwood episode of the OHM Dedication series mixed by JD Twitch.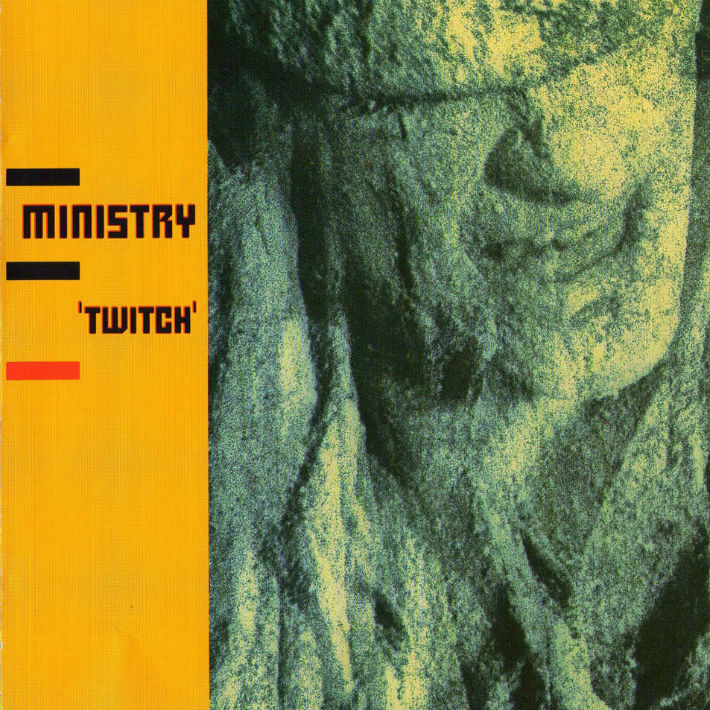 KM – I took my DJ name from the Ministry album you produced in 1986. Was that an album you enjoyed working on or was it just like another job for you?
AS – Yeah, Twitch was good fun because Al (Jourgensen) had just had a baby, a girl actually, called Adrian. He was at Wax Trax! and they were all really into the African Head Charge stuff and some other things – so they invited me to do it. It gave me the chance to get a trip to America. Al had just had a kid and I had just had a kid and I spent some time in Chicago. It was totally mad back in those days. That was 1985.
KM – Those records are so sonically radical. I think that kind of radical use of really headfucking sound seems to have gone from music. For me, most new music production seems to be too polished, clean and perfectly placed.
AS – Well if you're working with analogue, which we were, you can saturate sound which you can't do anymore. You know what I mean? You can overload tape and it creates natural compression. Working with tape, I still think, is brilliant. I would love to work with tape but it's very expensive and now people, generally, don't want to use it anymore. Those records were all made using massive tape overloading. And then spending ages mic-ing things down corridors with tubes. Nobody would even be bothered doing things like that anymore. Most people just want to listen to tunes on a compressed, overloaded, 'get as much bass out of it as you can' sort of way. People don't look at sonic as a picture quite like we did then. We were doing things like Conny Plank and that – taking stuff down phones and mic-ing up the phone, recording it down a tube and phasing the tube. We were doing things like taking something, recording it and then putting a mic in this room and then opening that door and playing it through into the other room and then re-recording it and having a phase in between the two things. Now nobody would go to those lengths. Nobody would be bothered doing those sort of things.
AM – Given we're in Scotland as well, I wanted to ask how the track with Irvine Welsh and Primal Scream came about in the mid 90s?
AS – It's funny actually, my mate Irvine, I saw him just back at Christmas time there. He's been my mate for a long time. His pal was a massive On U Sound fan way before Irvine was famous. I used to hang out with him up in Edinburgh. I had done the Barmy Army track obviously; and back then I knew the Scream a little bit but not that well. They're really good friends of mine now. Particularly Andrew Inness. A very good man. Bobby and Andrew are actually joining us on the London leg of this tour. I DJ-ed at a recent Glasgow show they played at the Barrowlands as well. Anyway, they said do you want to do a tune? And we got Irvine involved and, sort of redone, Barmy Army. It's not the best tune in the world but yeah, it's funny. I really like Irvine Welsh's stuff, he's good.
KM – I'm from Edinburgh. When you used to come up to Scotland in the 80s it was always Edinburgh that you would put gigs on with Gary Clail and people like that. That was just before the rave thing exploded and you could sense something was in the air. Those events were like raves before rave really happened, especially the intensity at the gigs.
AS – Well what I did was this, I had the crew in place but not everybody liked Gary and not everybody liked Mark and not everybody liked the cabaret ingredient of the American lads. So we stripped away the cabaret thing and we did an event. And from the minute you walked in the door to the minute you left you were assaulted with our music. Pure dubs, unreleased versions – just an assault all the way through the night. Here and now, for example, if the doors were open, we would have our music playing. And from arriving until the second they left they would be hearing our tunes. A really full on presentation of the On U world.
We did an event and from the minute you walked in the door to the minute you left you were assaulted with our music. Pure dubs, unreleased versions – just an assault all the way through the night. A really full on presentation of the On U world.
KM – I've recently been asked to do a podcast for the OHM Dedications Series. I was going to do one using all On U Sound material. I thought I better ask first though. How do you feel about people putting your music on mixes which are then put online and given away for free.
AS – I don't care. I really don't mind. Everything's available and if people really want to nick stuff they can. If they do then the ones who would buy it, when they hear it, will want to own a copy so it's fine with me.
KM – Quite often at the start of the night when I'm DJing, I'll play old On U Sound records; and people often ask what they are and where they can get the records. Sure they can download them but some people still really want to buy records. Will any more of it ever be reissued?
AS – Yeah, I mean, we've got the shop now, the On U Sound shop which is quite good. I've got people helping me get all that together and we have reissued quite a lot of stuff.
KM – What about on vinyl?
AS – Vinyl is totally down to the demand to be honest with you. At the moment there is quite a bit available on vinyl. A lot of the Japanese pressings are available which have got bonus tracks on them as well. I'm trying to find a balance. If I press something will it be worth pressing up 1,000 copies. If it's not worth pressing 1,000 then it's not worth pressing at all to me. You know, you have to make the plates and do the whole thing. The original plates are all gone now. Destroyed. If you don't press something after 6 months they force you to make new ones. It's really annoying when you consider the cost of the mastering and everything.
KM – What are you working on now?
AS – I just released an Ari Up album that was made before she died. It's very beautiful and I'm not saying that morbidly… It really is very good. My next release is my third solo album which I'm very, very happy with as well. I haven't got a name for that yet but yeah, I'll name it this week. I'm very happy with that. What else – last week I done some recordings with Pinch. We done three tunes together, some On U Sound mixed Pinch stuff. That sounds great. I've also been doing some tunes for Congo Natty, who's my neighbour. He lives seven doors down from me on the same street. We've done three tunes which are really, really good. I'm trying to work with new people and I'm trying to work with young people. Some young singers.
KM – Is there anyone you've came across in the last five years or so that you would really love to work with?
AS – Nah, It tends to be more like I'll hear something I really like and I'm jealous. I think "fuck me that sounds fantastic and I wouldn't mind working with them". So I keep hearing tunes that are, sort of vaguely, from the new dub arena with sonics that I really like and then I met Pinch, who's work is great. We got on really well – he's very talented. Digital Mystikz, I done a couple of tunes with him. He's good as well. Because you hear his work all the time, I wouldn't mind fucking about with him and doing some stuff properly. The Peaking Lights and Django Django remixes. They're the only two bands I've done for quite a long time. I done a dub for Django Django which I love. Apart from all that I have to juggle a lot because I would like to be in the studio all the time making tunes but I have to go out doing things to make money. The long and short of it, for musicians and producers these days, is that you've got to be hitting it live. Everyone has to. Not only is it good promotion but if you look at the income stream of records – it's unfortunately not there anymore. If you want to do ok and support the family, you have to balance doing a bit of this and a bit of that.
KM – Finally, is there any current Jamican music that you find exciting?
AS – Sadly, the bulk of good reggae isn't coming from Jamaica any more. It will kick up again but right now there are very few new Sly Dunbars or Style Scotts coming through… or Flabba Holts or Robbie Shakespeares. The legacy is there but now, reggae is so much part of world music, reggae's everywhere. It's influence is everywhere and people love it. And I think reggae's message has reached those that it needs to reach. As Bob Marley said, those who are supposed to get the message are doing or have done; and that manifests itself in rhythm sections like the ones I'm on tour with or young producers like the ones I mentioned before. Hopefully young players will come up again who will see all these things and want to reference it. Reference something that's roots might lie in the Dancehall of Jamaica of the 70s or something from the 90s. It's a progression all-in-all. Right now it's sad to see that Jamaica is a bit too near America vibe-wise for my liking. I would rather it was nearer jungle, drum n bass and dubstep or if Jamaica had it's own flavour of those sort of things than the American influence. Fuck knows though, you can't mourn a thing or stay hooked on nostalgia either or it just dies… Right now, reggae is massive. You've got Gentleman and the Italian lad and loads of other things that are all alright. It's not my cup of tea that I stay at home listening to and it sends shivers up my spine but it's ok, you know. Jamaica will produce greats agin but it's having a bit of a lull at the moment until it rediscovers itself. The last time I was there it was all sex songs and gun stuff but that's how things are just now I guess.
The first part of this interview can be found on Racket Racket. And, as ever, you can find more reggae and dub related music at our Reggae For Bed section.