A huge thank you to Moggie who once ran the superb Ripped In Glasgow blog for sharing these Scottish clubnight flyers from the 90s with us.
Whether you're looking for a trip down memory lane or an insight into DIY club flyer design back in the day, these should prove fun. The selection on show here also rams home just how great we have it in Glasgow (and to an extent Edinburgh) in terms of quality underground club music nights; and the fact that this has always been the case – attracting the finest names in the biz whilst simultaneously producing talent that equals those names. A special mention to both Terry and Jason's PussyPower and to Dribbler, Twitch and Brainstorm's Pure night. And keep an eye out, as there'll be more where these came from on RR this time next week.
If you want to follow Moggie (who, incidentally, apologises profusely for the blu tack) on Twitter you can do that here, and if you're interested in joining the Ripped In Glasgow Fb group, then Email 'em…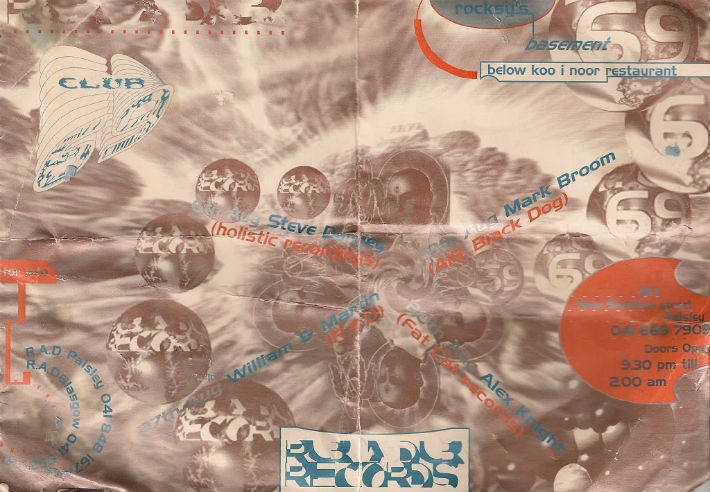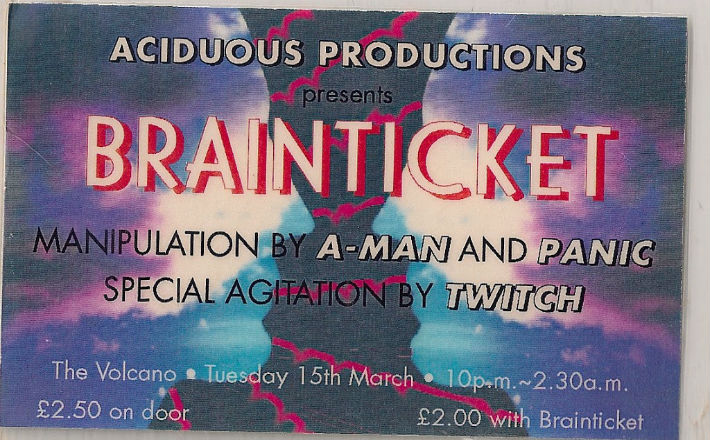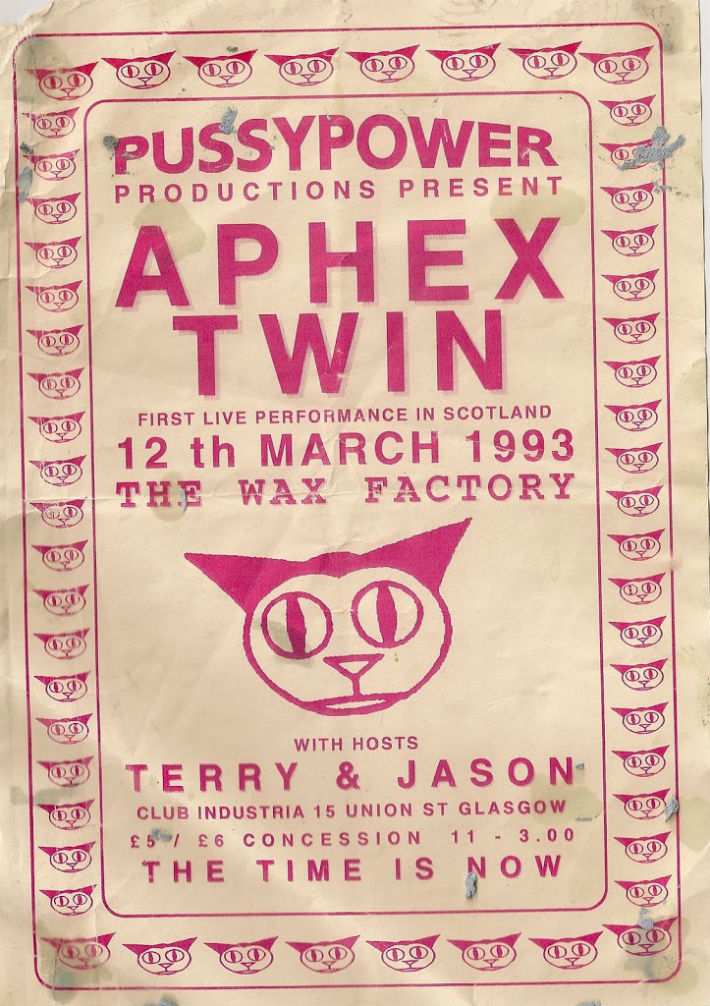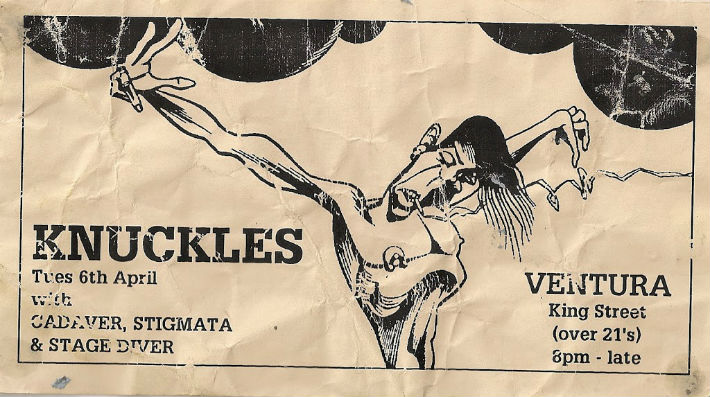 Out of all of the nights represented here, the one which has had the biggest lasting impact on me was 'Subterranea' (flyer below) – an illicit boat party organised by the notorious Pussypower brigade from Glasgow. You had to meet up at Granton Pier in Edinburgh at midnight, before sailing off and returning at 8am. I was still relatively new to the clubbing scene and this sounded like the best thing ever…
I remember that we had three tickets between four of us (or was it four between five?), so ended up photocopying and laminating one up DeCourcy's Aracde on the afternoon of the trip. Thankfully it worked. Managed to miss the bus to Edinburgh, which wasn't the best start to proceedings but got the train then a taxi to Granton Pier and the boat was still there. Phew!!
The boat got delayed in leaving as someone had forgotten a turntable and they had to go and borrow one from The Venue (home of Pure/Wave)! Very makeshift, with slipmats made from Budweiser box cut-outs. Anyway, the boat ended up circling under the Forth Bridge to create massive waves, then floating about all over the place. Still remember hearing Quadrant – Infinition and The Age Of Love on that boat like it was yesterday.
One of the best nights of my life! Nights like these are ingrained in my memory – can't believe I can remember such minute details despite the nick I was in at the time (20 years ago!), mind you as any ex-clubber knows it's all about the short term memory loss…
– Moggie (Ripped In Glasgow)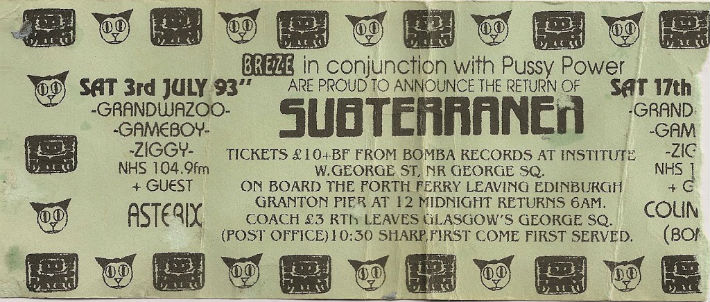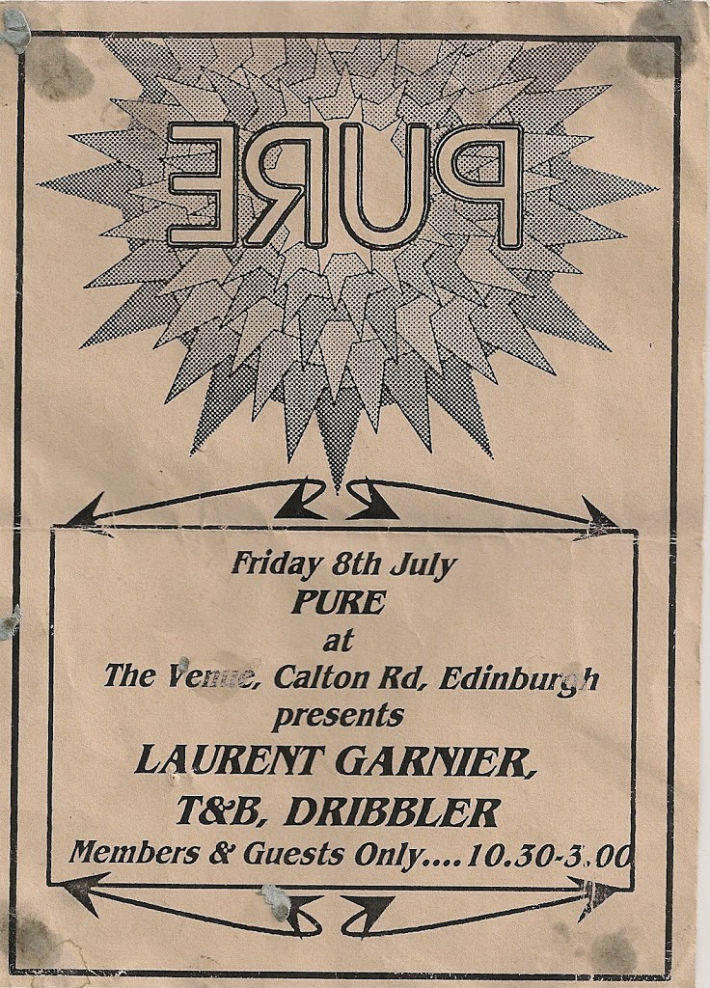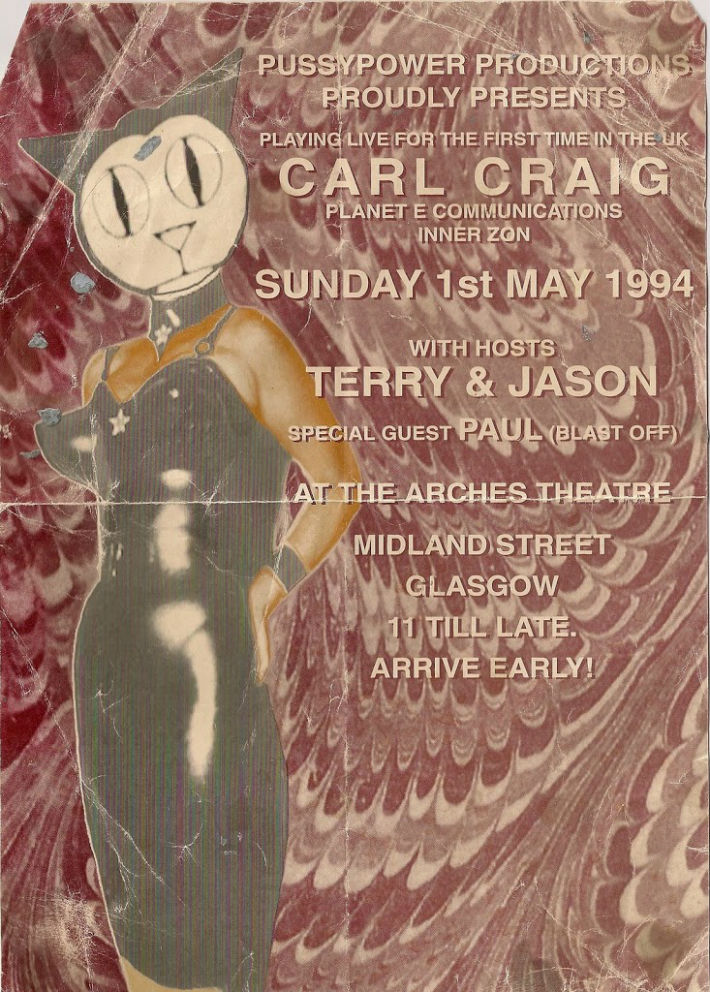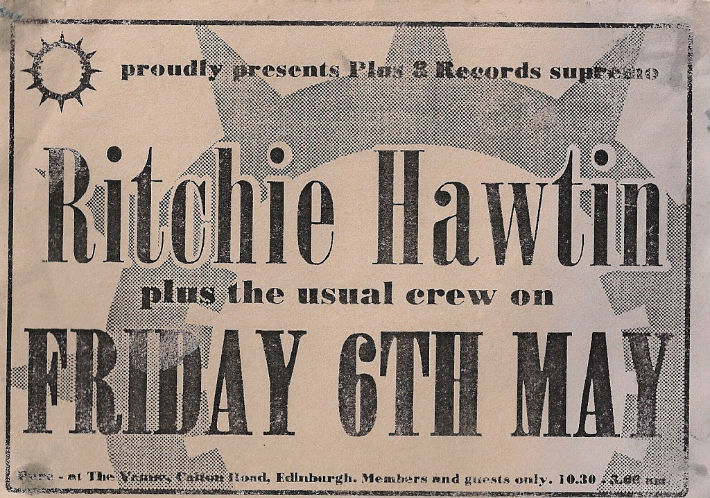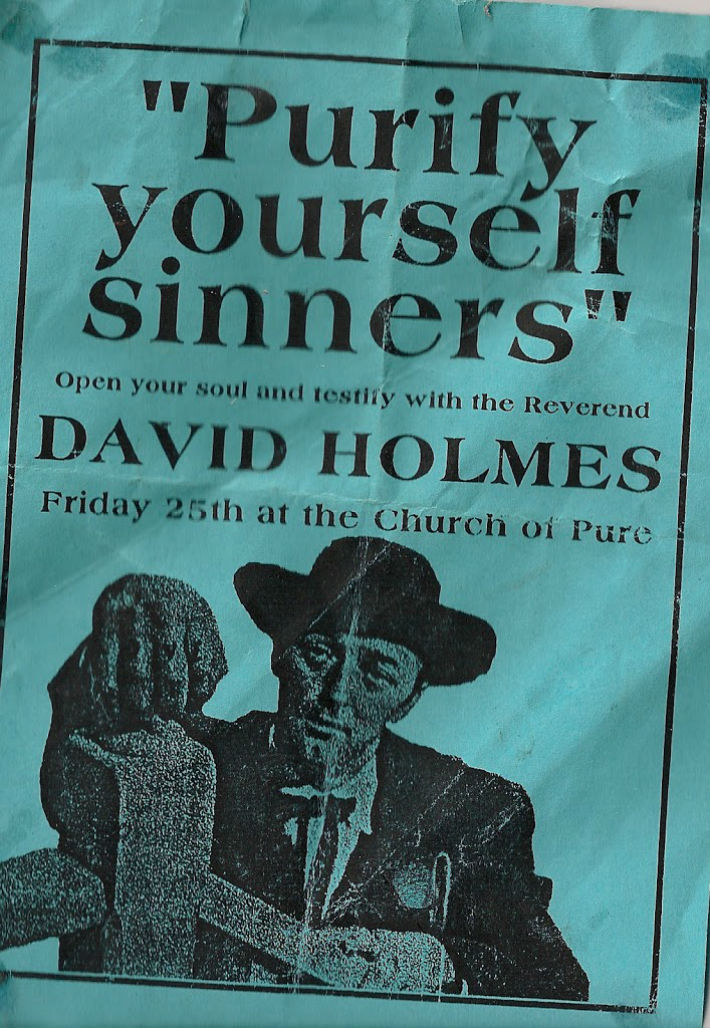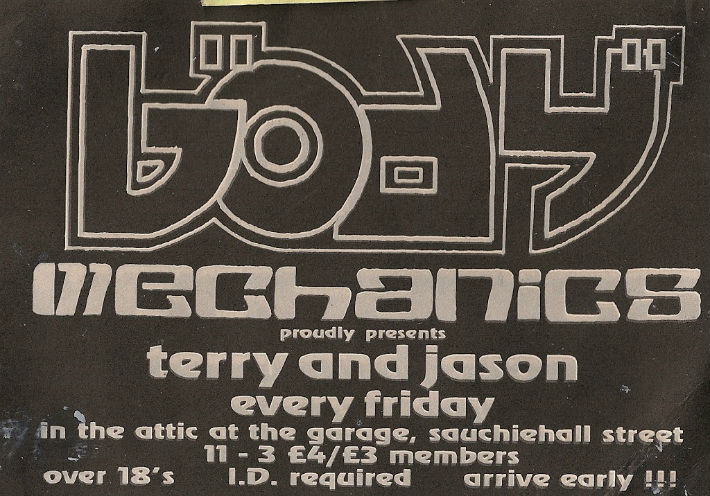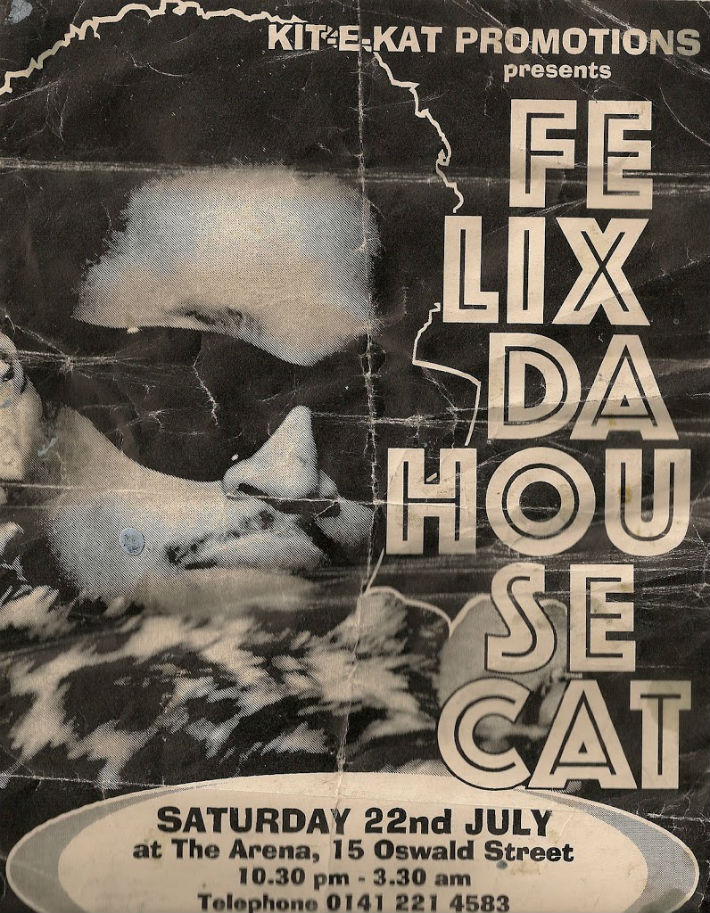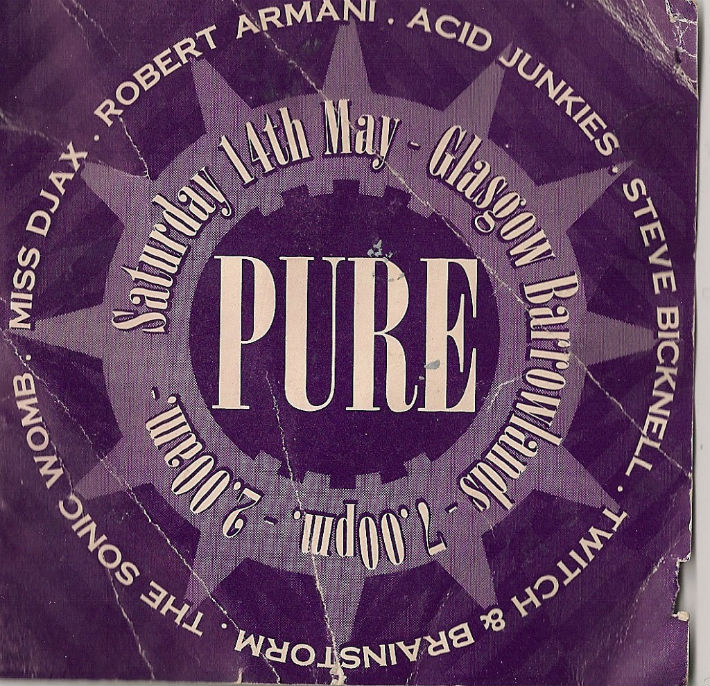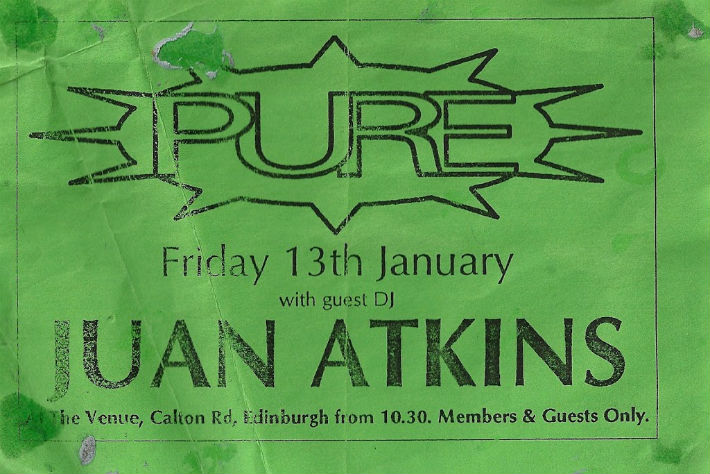 As mentioned, more of Moggie's club flyers next week. If you've got a keen interest in the Scottish clubbing landscape and general cultural goings-on of yesteryear you should have a read of Dribbler's Tramway Rave article as well because it's brilliant.