We invited Bruce Morton to reminisce about the early days of the stand-up comedy scene in Scotland. What follows is his rough chronology and perspective.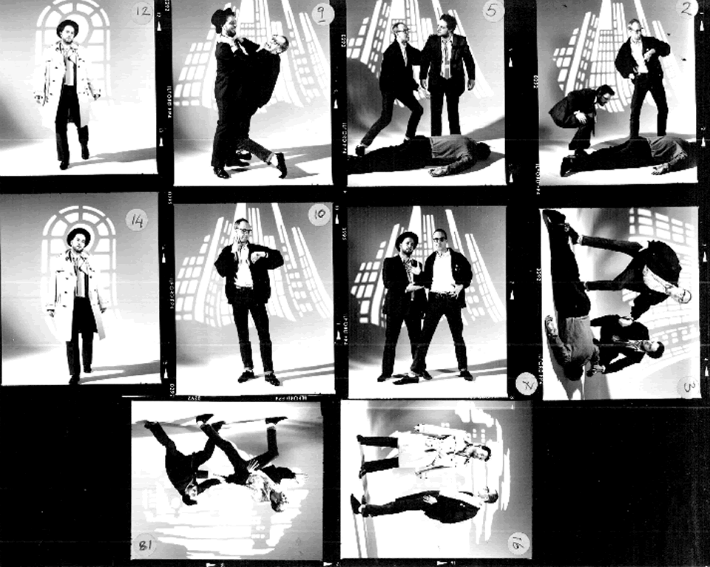 I can't say with certainty what was happening in other parts of the country, but I believe, anyway, that most of the early, noisy, stand-up impetus came from our west coast.
In the late 1980s there were few stand-up comics in Scotland and even fewer venues in which to have your ego caressed or crushed. Alternative comedy had been around in the UK for ten years or more, but it wasn't very visible here, apart from notables like Jerry Sadowitz and Craig Ferguson. At this time, Jerry was already a legend and Craig had already been on the telly. Arnold Brown had won the Perrier Award in 1987, but Arnold was based in London.
The comedy scene here, while lacking a stand-up presence, had plenty of sketch-based comedy talent: The Merry Mac Fun Company, in Edinburgh, Scotland The What, from the north-east and The Bodgers – Fringe regulars through the early to mid-eighties. In Glasgow, probably the best known acts were The Alexander Sisters (Lynn Ferguson and Caroline Bonnyman) and, of course, Victor and Barry (Forbes Masson and Alan Cummings). Both of these double acts were hilarious (as were the crews mentioned above). Their backgrounds were in acting, in drama, and they used those skills to create brilliant skits and songs and character pieces.
Still though, the (now) familiar figure of a lone stand-up comic was rare, up here. And then, on one cold evening in the Briggait Market in Glasgow in early 1988, somebody organised a live, alternative comedy show. On the bill, Tim Clark – a visiting comic from the London circuit and some Scottish talent: Stu Who with his comedy/cabaret group, The Priestie Boys, Libby McArthur as part of a double act and a 16 year old kid who called himself Boris Vesta, wore crazy hats and impersonated Hector Nicol.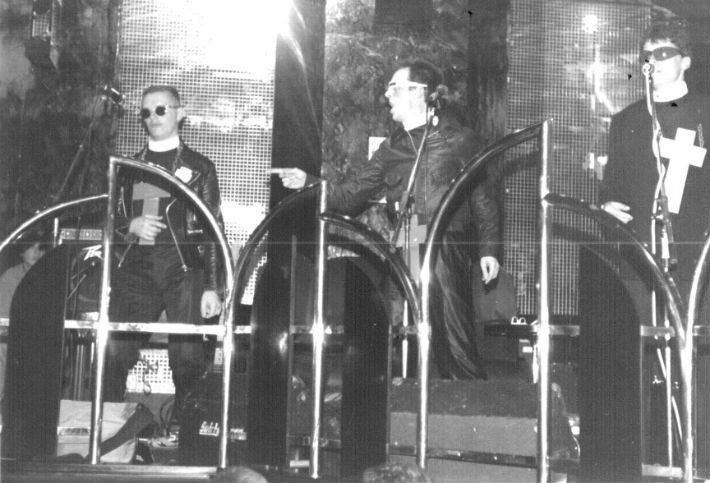 The gig lit me up. Stu pointed me to Edinburgh where Karen Koren was shortly going to run a showcase gig for new performers. I went there in March 1988 (rehearsed up-to-f*ck) for five minutes at The Gilded Balloon studio theatre, after which Karen offered me support slots for the following week on consecutive nights: one at the Gilded, the next at The Briggait in Glasgow. The first one was a dream, the second one a disaster. The highs and lows were immediately evident and vivid.
Two months later, a competition called So You Think You're Funny ran during Glasgow's Mayfest. This was the first incarnation of what is now a big deal during the Edinburgh Fringe. A batch of aspirants took part. The winner was Martha McBrier, the runner-up yours truly. This still rankles. The competition, however, had a significant consequence. It was there that a bunch of new Scottish comedians met and it was there that Stu sounded me out with the notion of putting together an agency for comedians – run by comedians. That notion was finessed and from it evolved something we called The Funny Farm.
This was not an agency, as such. It was, essentially, a collective. We'd meet, exchange, help each other, co-write bits and pieces, hustle around for live slots here and there, offer a hug after the good gigs and a hug after the bad ones.
From a core group of four: Stu Who, Parrot, me and my then partner Sally (whose PR, admin and communications skills kept the story and the group going), the Funny Farm developed fast and attracted more performers. They came out of the woodwork, they flew in the window. By the time we got to 89, we were around a dozen strong.
I contend that The Farm was an important moment in the development of a stand-up scene in Scotland. Firstly, the new comics had an identity – as well as a shared mindset – and secondly, the fact we were 'collective' made for a news story which did not exist for a lone performer. (A group will, of course, make more noise than an individual.) We got some press and we got some attention and we were growing in confidence and personnel.
The Farm was an important moment in the development of a stand-up scene in Scotland. The new comics had an identity – as well as a shared mindset – and secondly, the fact we were a 'collective' made for a news story which did not exist for a lone performer.
Fred MacAuley got involved, Kate Donnelly and Clair Hemphill provided character-based sketches and vignettes), David Cosgrove brought a writer's sensibility, Boris Vesta had reverted to his name Lewis MacLeod and expanded his impressionist repertoire. There were others: Gordon Robertson, droll stand-up; Kevin Kopfstein, comedy and conjuring; May McReadie, jokes and songs, and there was Stuart MacDonald – The Letter Man. Stuart was a lean, woolly-haired east coast maverick. He would pull cardboard cut-out letters of the alphabet from a shoe box and say the name of each letter. That was the act. I'd guess you had to have been there – but it was, believe me, awesome. Later, the romantic king of hairy mavericks, Phil Kay was to get involved.
We weren't the only aspirant comics around, of course. Others were soon making their noise. Greg Hemphill was one third of a beautiful emerging crew called The Three Men Trio Brothers Troupe. (One of it's members, Rab Christie, is now MD of The Comedy Unit). The Troupe won the So You Think You're Funny award in Edinburgh in 1990. Phil Kay took that award the previous year.
Some comics wanted to join The Farm, some didn't like us: "Its just a comedy mafia" said one disgruntled applicant. Well, f*ck you – write better jokes and come back in a while. Some other guys started their collective, called Ship Of Fools. The new comedy scene had friends too: Mark Fisher at The List; David Belcher and Keith Bruce at The Herald, Michael Boyd, then artistic director of The Tron Theatre.
So, there were comics. And supporters. But. We had no regular comedy venues. Until and except.
BAR POINT, PAISLEY
A fine big fellow called Piero Pieraccini was running a bar in Paisley called Bar Point. He loved stand-up. He got in touch.
Us lot and others started gigging there regularly. Piero did not charge people money at the door. The joint would always be rammed. This was around 1988/89. The compere sometimes brought a trumpet. I can't remember why. I do recall one night he got Sally out of the crowd, had her stand with a pencil in her mouth like it was a cigar, took a few steps back and used a whip to slice the pencil in half. That's tricky to do in a busy wee pub. Also, it's fucking difficult to follow. I saw MacAuley do his first paid gig there. He was half-cut when he started and mortal when he finished. Every now and again he would squat to retrieve his pint while announcing, "Going down!" and making a noise like a car ferry horn. Nobody gave a fuck – 'cos Fred was lethal funny that night and every night. The Bar Point is where many of the original crew cut our comedy teeth. And we – if few others – know that enormous respect is due to big Piero, whose passion and good-nature gave the new comics and the young scene a tremendous lift back then.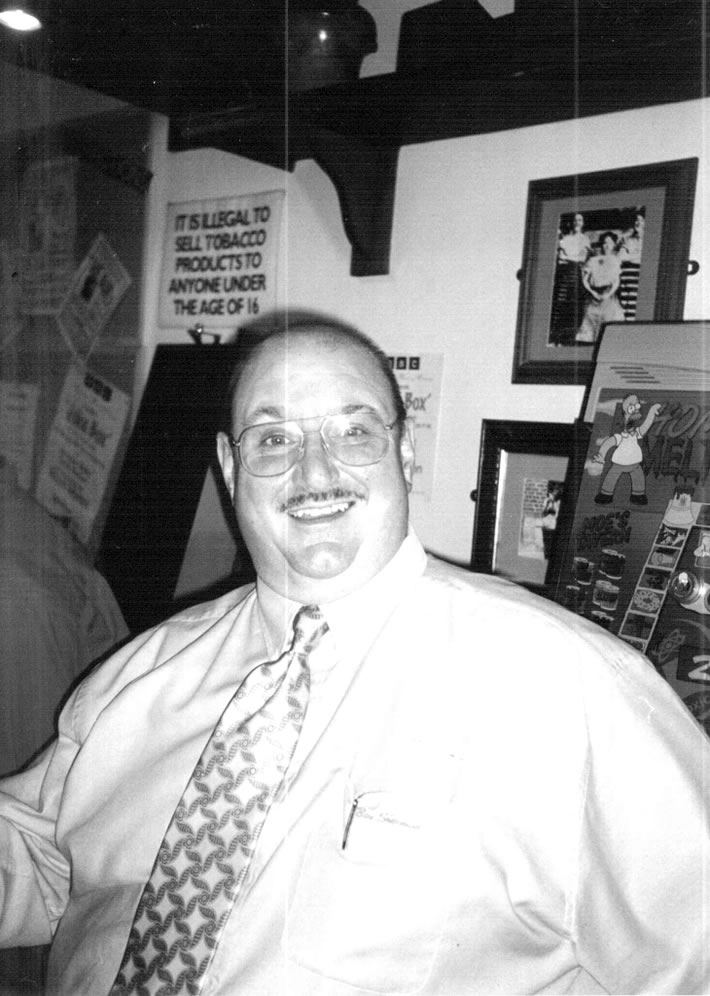 THE COMIC CLUB, BLACKFRIAR'S
Springtime 1989 and Sally got a call from Claire McAuley (no relation to Fred) and Alan Cunningham, who ran a bar in Merchant City, Glasgow, called Blackfriars. The place had a basement. They fancied putting on stand-up down there. They'd read about us. Sally and I scoped the room. It. Was. Perfect.
The Comic Club was born. The name was a respectful check to the cartoonists and comic artists who occasionally used the basement. In May 1989, the Funny Farm put on the first comedy gig there in a space which to this day is still a great room for stand-up (a low ceiling always helps).
We made posters and tickets and enlisted help and put out the call and on the night of the gig the place was busy to the point of fire hazard. I guess it held about 120 people, crammed and hot. The ceiling dripped condensation. The stage was the size of a coffee table. People just kept coming down the stairs, trying to get in. There was a beautiful moment just before kick-off. Nine people from STV, loudly telling us they were from STV, wanted entry. They seemed to believe that because they were from STV, they could get in for nothing. They didn't get in at all. A little arrogance helps in this game.
The gig was a hot and sweaty stand-up classic. The people who came along brought generosity and spirit. Flushed and possibly crazed, some in The Farm subsequently argued at meetings that the Comic Club should be exclusively for The Farm. Sally and I said no. Splits began to appear. Meanwhile and after, though, The Comic Club was hosting sets by the likes of John Hegley and Will Durst and even the alternative comedy Guvnor himself, Tony Allen. It was where Ford Kiernan first got behind the microphone, annihilating the room in gig after gig. Liz Lochhead did a set. In the darkness at the back, an under-age Frankie Boyle was observing, plotting.
Back then, we had no models to follow. We didn't know, for instance, how things were done on the London comedy circuit. We just did it the way we could, like punks or fanzine makers or like an independent record label. We just steamed in, clutching our tins of rice.
Bar Point was still running. Now there were two regular gigs on the west coast. Others would give it a go, usually only for a wee while. The Mission, for instance, in Battlefield, Glasgow. They stuck a riser at the back of the pub, gave us a mic and a couple of lights and we'd gig there. No charge to get in. A drunk staggered towards the little stage and stooped in front of me to unplug the lights. I stepped off the stage, settled on his back, put an arm around his neck and for a minute rode him round the room still holding the mic and trying to do my jokes. We'd gig in leisure centres, student unions, bars, draughty halls, gong nights, the Third Eye Centre, Jordanhill College. A pub's kitchen would be a dressing room. A £20 payment would be a red letter day.
Sometimes we'd go large. Parrot and I concocted a thing called Bad n Crazy and enlisted a few of The Farm for a late night show at The Tron Theatre. Posters were black and white – 'cos that's cheaper. Sally and I used felt pens to colour them in before sticking them up here and there. That night, we did stand-up sets, sketches, music and even magic: Kopfstein wrapped one comedian in a carpet and thirty seconds later unwrapped it to reveal another. In a poorly rehearsed stunt, Parrot booted me in the nuts. Talk about dangerous comedy..
(Not so long before that Parrot had supported a punk band called Skrewdriver in a bar in Glasgow. He had had the idea to strip to his underpants and pour creamed rice down the pants. "I thought it'd be funny", he said. The audience didn't share his vision. "I just looked," said Parrot, "like a guy with creamed rice dripping out of his pants. In a quiet room.")
Back then, we had no models to follow. We didn't know, for instance, how things were done on the London comedy circuit. We just did it the way we could, like punks or fanzine makers or like an independent record label. We just steamed in, clutching our tins of rice.
Summer 1990 and The Farm won an award from The Herald for gigs we'd been doing in community centres here and there. The paper took a picture of the whole gang. That day, only young Lewis offered me congratulations for a separate award I'd won that week. Young Lewis, whose professed ambition "to be like Bobby Davro" had brought sneers from some of his Farm peers. Lewis is now one of the top voice-over artists in the UK. Lewis provided voices in Star Wars – Phantom Menace. Lewis has sat down with George Lucas.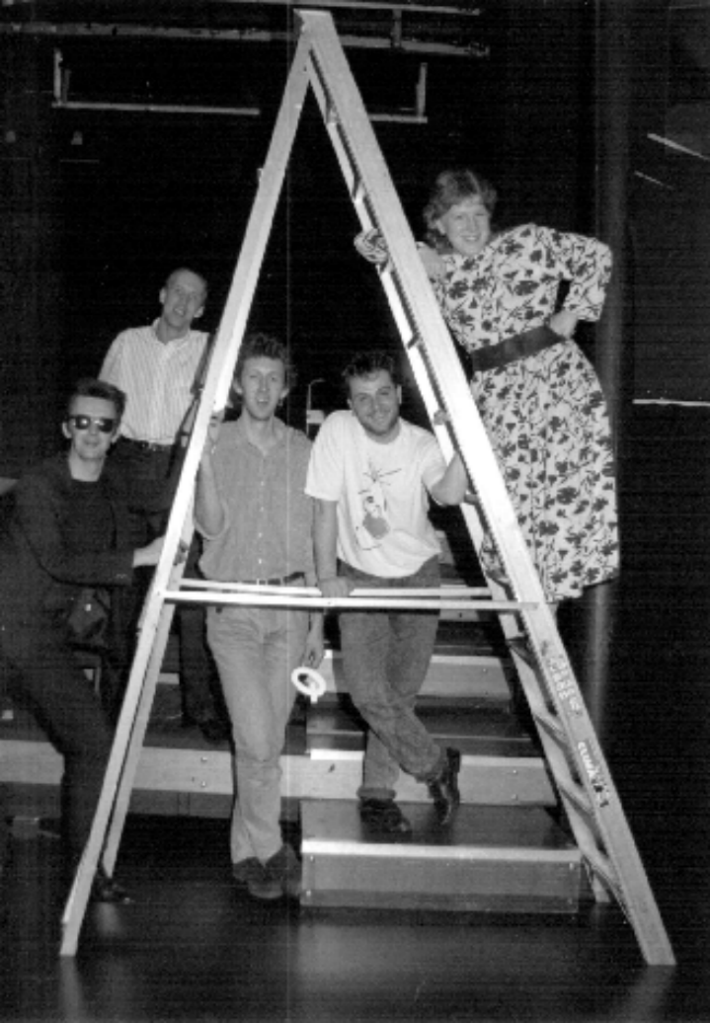 Following a frank exchange of post-gig views with one of the group, Sally and I walked away. The spaces left were quickly filled and The Farm endured for another couple of years before dissolving. But, as far as Sal and I were concerned, the job was done. The collective had pushed open the door.
Just after that split in the group, STV approached the troops and invited them to get on board with a forthcoming stand-up comedy TV show to be called – wait for it – The Funny Farm. Some of the comics believed they would have 'editorial control' in this show. They didn't get that, of course, but, Stu and Fred compered a couple of series and many of the other comics in the group got a little television exposure too. The show was arid, but search YouTube for Parrot in season 1 and catch just a flavour of the swagger he was bringing to the scene.
We'd caught some other bits and pieces of TV experience. Some appeared on Halfway To Paradise on Channel 4. We'd make tiny contributions to Radio Scotland. Not much though, on BBC Scotland telly. They seemed unsure about stand-up, preferring tried and true sitcom and sketch show formats. It probably wasn't until The Live Floor Show in 2004 that home grown stand-up talent was deemed good enough, by them, for exposure.
Mark Thomas once said to me that he really likes brand new comics. "But" he said, "after about six months they start to get good." Meaning, their random energy becomes focussed and polished. By the early 90's, the figures on Scotland's comedy landscape had got good.
By 93, yours truly, Phil Kay and Parrot had received Perrier Nominations at the Fringe. Phil and I had done some network telly. Fred was a regular compere at The Comedy Store in London. Comics from here were on the road, gigging down south and over in Ireland and making their way, working hard. Sometimes too hard: that year Parrot wrote three separate solo shows for the Edinburgh Fringe and performed all three every night for three weeks in three venues. He was already heading to a subsequent and painful meltdown.
There was certainly a birth and a burgeoning of home grown stand-up back then. The team that had formed The Funny Farm were followed by others and subsequent waves followed them. New comics stepped up, who could see, at least, some opportunities and locations for stage-time. Stand-up was still niche, but slowly (very slowly) becoming a part of the entertainment landscape. Arts Centres were receptive. The 13th Note (back when it was on Glassford St) became a good regular gig. Promoters stepped up too. Fool's Paradise, from 92-94, ran excellent monthly, consecutive night shows in The Old Atheneum, Glasgow; The Music Box, Edinburgh, The Lemon Tree in Aberdeen and somewhere in Dundee which might have been Dundee Rep but I can't remember because the Fool's Paradise shows were sponsored by a beer company. Scottish talent in these gigs would share or lead a bill with our more experienced cousins from England and Ireland.
And in September 1995, in a miniscule basement below a bar in Edinburgh, The Stand Comedy Club put on it's first gig. The game was about to change. Tommy Shepperd and Jane Mackay ran that gig. They ran it by dint of their passion and enthusiasm and because they like to have a laugh. Just like the comics they booked. Just like the thousands who are now on The Stand's mailing list.
And just like big Piero in Paisley, way back in 1988.
Have a look at Bruce Morton's website for more writing, videos and info on him. One of the good guys.
(Images all belong to Bruce Morton. Scanned by Stuart Milne)